About EXTREME Breast Plates & Collars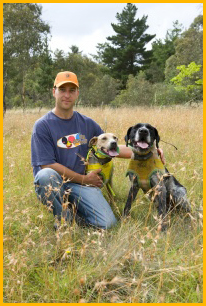 I have been hunting with dogs since 1994 and still get extreme enjoyment out of seeing my old dogs find and catch good pigs. And also my young dogs starting.
I Started making breast plates and collars in 1998 for myself family & Friends. After 4 years of making them out of conveyor belt and leather, I then changed to fire hose, Seatbelt & Shade sail materiel due to the experience I gained as well as feedback from various hunters. I have been making breast plates and collars professionally ever since. The materials used make the breast plates and collars lighter more durable and last much longer in the harsh Australian Conditions, thus making them Extreme.
All plates and collars are finished with hi-vis seat belt material for extra strength and dog safety combined with reflector tape to spot your dog at night easier.
Being a hunter myself I have been able to trial all my products first hand and am always looking for more improved ways of making things as lite as possible but still be strong and safe for the dog, after all your dog is your best hunting aid also your best friend.
The total weight of a large plate at its heaviest is around the 600 grams, which gives your dog faster and longer lasting performance out in the field!
Shop EXTREME Breastplates & Neck Collars today!